With laundry done, and no pressing schedule to keep, I slowly got out of bed, and started packing. Who am i kidding. I stayed up too late and was dead tired.
I started packing up the bike and looked to see what they had for breakfast at the hotel. Not much at all. A bowl of fruit loops and bad coffee it was.
meh.
I hit the road and took some coffee stops along the way. I needed the caffeine today. No real pictures of the Pennsylvania landscape. rolling hills, trees changing color. More of the same. It was very windy, so i kept the camera in my pocket... until i spotted this place.
"be prepared to see more than you expect" Now THAT IS BOASTING!
I wanted to see the miniature village. Would i pay $7 to go see it? Hell yes i would. I'm not a fan of miniature village, but things like this attract me in the same way most people like to go to a freak show at a circus. Even if it's a let down, i just need to see it with my own eyes.
A panoramic of the whole thing. It's freaking huge...also all carved out of wood by hand except for the cars and trains.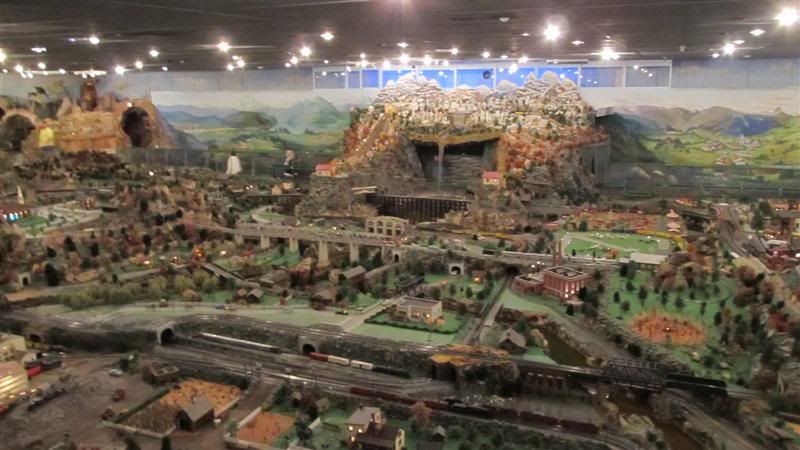 big waterfall in the background
they played a night scene set to music of the sun setting, then going to full dark
it went back to full light.. .was neat... well done.
Composite scene of the Endless Caverns
I took off looking for food. There was a restaurant that boasted authentic dutch food. If there's a place in the USA that would have it, it would be in this corner... this is amish country.
so i went here.
BAH!
I went up the road to the blue mountain family restaurant instead.
I got this:
What's scrapple you ask? It's that squarish thing on the plate by itself.
It's all the little bits of pig meat that's left on the bone after they slaughter one. They take all the little bits and it looks like they make some sort of meatloaf with it.
How did it take? surprisingly bland. She gave me some syrup for the Scrapple. Seems some eat it that way.
with the syrup, all you taste is syrup. meh.
it wasn't bad, but it wasn't impressive.
Back tire. hope it lasts the last bit home.
More uneventful riding until a nasty smell hit me.
New Jersey.
whatever you do... don't miss an exit or else you are screwed and it'll take you about 20 mins or 20 miles to get you back. Brutal. thankfully, the gps helped a) find a starbucks and b) route a way back to it when i blew the entrance to the place. stupid one ways.
After that run, i pulled over for fuel/coffee and noticed my back tire... after 10 mins it was still hot to the touch, and the rubber was all sticky. nice compound, but it won't last long. I could see a difference in wear from this morning to then. brutal. The front tire was cool to the touch. go figure.(this was in Connecticut )
It was starting to get dark... then got dark... and i decided to keep riding. Then it was foggy.
I saw a sign for a super 8 and thought i should stay there... then i saw a sign that helped my train of thought.
My little taste of home. It sucked. They have an automatic machine that brews it by the cup. This was at the gas station... if this is what home tastes like, home sucks.
it sucked. sucked ass hard. I'd rather have been drinking regular gas station coffee.
Blah. got a room at the super 8, and then went out looking for food. oh... looks like it rained when i was inside. I took off looking for food and noticed the bike handled totally different.
i was pretty much white knuckled it down the interstate and back. Seems that the added weight on the back stabilizes the bike.. i didn't have that nor the GPS...
After a useless ride around... even mcdicks and burger king only had their drive-thru open. men.
I settles on some pringles and a sub from a gas station.
What do you expect from a town that has like 5000 people.
oh well, you can't eat like a king everyday.,