I didn't get to write much in my journal i keep with me at all times. Years ago, it was all about miles travelled and other related motorcycle entries. I've kept one for 1 car road trip and 3 bike trips. These have evolved over time and are now keepers of my most intimate thoughts and feelings.
I was up till 3am finishing up the blog, and i realized today that the blog isn't the most important thing out there. From now on, if i don't update the blog daily, it doesn't mean i'm dead, just means i couldn't find Wifi. oddly, it's hard to find wifi in a cheap motel, but you can sit outside McDicks or Starbucks and surf to your heart's content.
Left the motel at 10 am. Not really late, but these days, it gets dark by 7pm so every minute counts. I need to be up at the crack of dawn.
I needed coffee and fuel. One because i was running on empty, and the other because i spilt fuel all over the bike and only had it half way full.
I stopped at the I-55 truck stop, on the corner of US53 and I55. As it's a truck stop, it has almost everything and i scored some american flag stickers for the bike. SCORE! The trip is all about the stickers. seriously.
I chatted with the two girls working behind the counter and one asked some interesting questions. one which i didn't have an answer and have been thinking about all day.
Q #1 do you always have to wear the suit.
A. No, but i choose to. keeps me protected from the elements and possible crashes.
I went on to tell them about last year's trip. people seem awe struck when i tell them about these trips. for anyone reading, they are nothing. it's just a collection of little road trips, for many days in a row... that's all it is really. A little time, a little money and a drive to learn is all you need.
Q #2 Why do you travel?
A. I like to see how other people live.
That's pretty much a bullshit answer. I've been wrestling with my thoughts today to find out exactly WHY i do travel, and why like this. maybe an answer will come out of it. no clue.
I had made up a rough plan to hit Gardner, IL to pick up Route 66 there. little did i know that the hotel i was at on US53 WAS the old Route 66. I ended up taking I55, heading to Gardner. I got distracted by a sign for the Abe Lincoln National Cemetary. I took the exit it was to be at and looked for it, but didn't find it right away. Instead of turning around, I let the GPS plot a course back to Gardner, but without using I55.
rule of thumb, NEVER backtrack when on a bike trip unless you have to and never say to yourself "i'll swing by after and check it out". 1) you never know what's right around the corner and 2) you'll never swing back around because of #1.
Following the GPS to the first corner, i see a sign for the highway the motel was on and a sign for the Cemetary. I like cemetaries for what they stand for but don't agree with wasting acres of land for it. cemetaries stand for one thing only. respect.
Turning said corner i find this: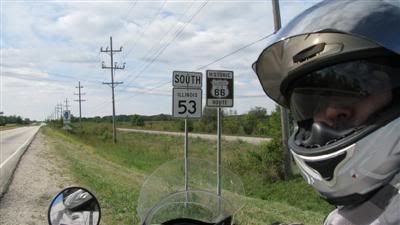 US53/Route 66. you can see the rail lines in the background

Had i known that US53 was historic Route 66, i would have stayed on it direct from the hotel! To note: route 66 was always right near the rail lines, so if you're looking for it and know the general area, keep a look out for a road right next to the railroad.
I like cemetaries. I'm not exactly certain why, but they are peaceful respectful places... a safe haven if you will.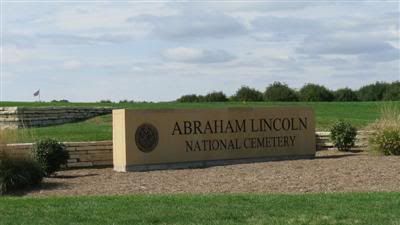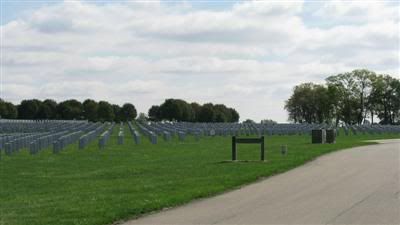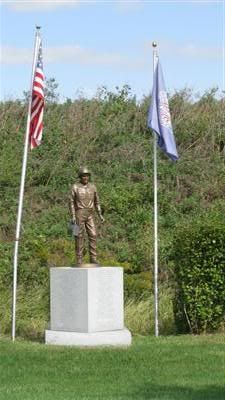 I left the cemetary with more questions than answers and continued on route 66. Today felt like the total opposite of yesterday. everything was going well for once.
I came upon my first taste of the old cheesy route 66. this is what i came down to see.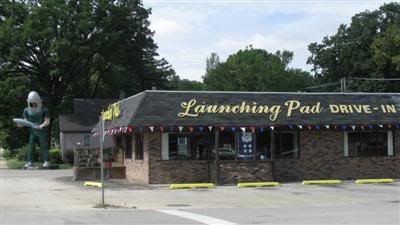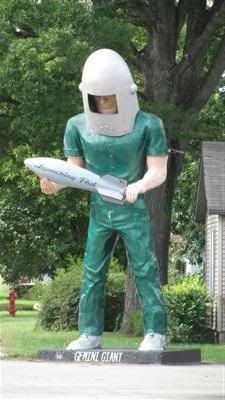 A rocket man, and i think it's gonna be a long long time
I love driving through old little towns that are still very active and still live by the old Route 66 way. The problem is, it's dying out.
With no food in me yet and only bad truck stop coffee i decided to hit the next place that looked authentic Route 66.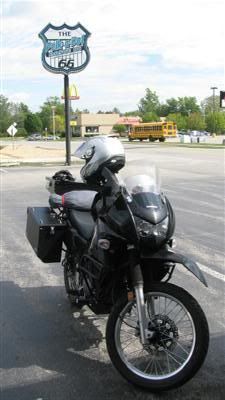 polk-a-dot drive in
The place seemed really authentic. The inside seemed very authentic... you could tell it's been painted a few times, but the counters, booths and stools seem authentic.
so did the food. I got a chili cheeseburger fries and coleslaw. quite delicious. I ate outside and was surprised people still went to the McDonalds just up the street (you can see it in the above picture)
people should stop doing that... they are just enabling corporate america to run small businesses into the ground.
tons of food. cheap too.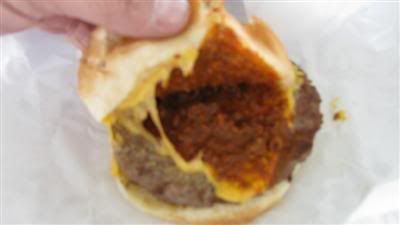 delicious chili cheese
I'd eat at a small joint like Polk-a-dot over McDicks any day of the week.
I liked the cheese of the place.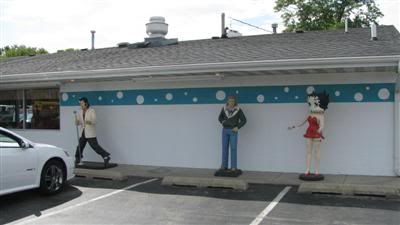 i wonder if this figures were there in 1956.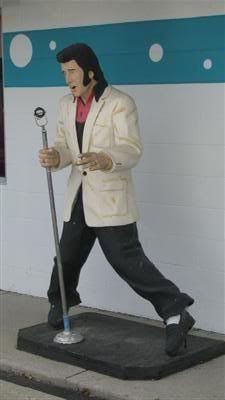 a closeup, just for Shawn
So far i was having a good day, feeling good and in a really good mood. I got a txt from a friend and made my already good mood, better. heh.
I continued on, in good spirits. I took a few pictures.
original route 66 on the right. it can be seen on and off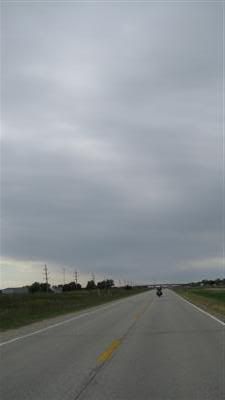 pretty much 90% of what i saw along route 66 so far.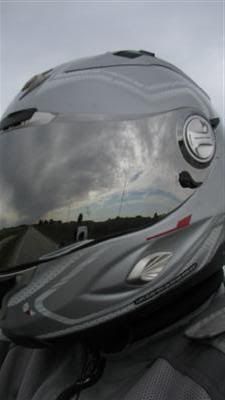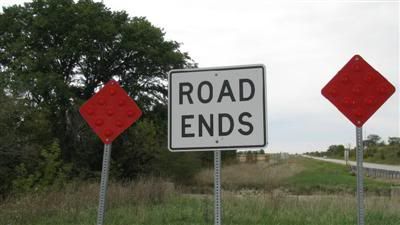 these are all over on the old route 66 that still stands.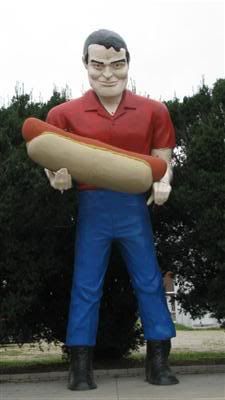 giant muffler man converted to hot dog man
you can see how big they are in this shot
all water towers and the like should be painted with funny faces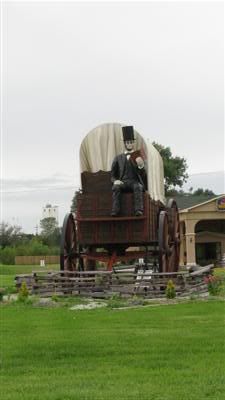 a giant abe lincoln!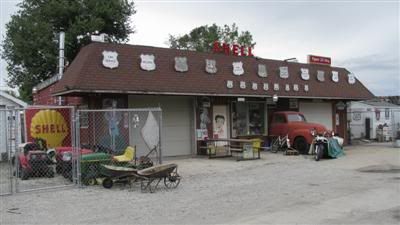 an old route 66 garage. was closed when i went by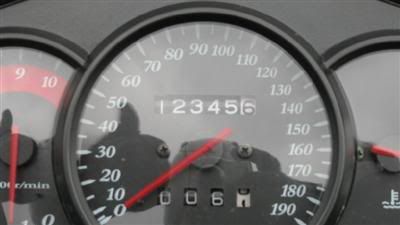 i hit 123456 awesomes!!
F4 phantom i believe. it was just outside an airport. neato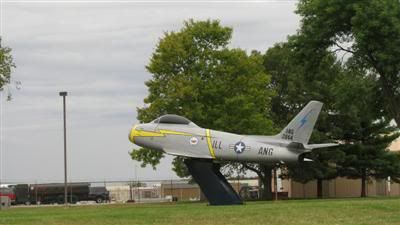 same airport... F86 sabre maybe?
I realized that the "route 66 experience" isn't for everyone. myself included. Sure, there are corny muffler men, and other such sites, but those sites are far and few in between. Much of it was following I55 and having to get on and off the interstate to just follow a broken up road with nothing on it. not my idea of fun.
The drive through Springfield, IL was pissing me off. All i wanted was a nice cup of coffee at starbucks and maybe a bit of wifi. something was going on downtown and there were detours everywhere. doesn't help when most of the roads are one ways. what an annoying town to drive through.
the only good thing i was was a hot blond cop giving me the evil eye. good thing my mirror face shield was down. heh.
From springfield south, it was VERY boring. on and off the interstate (no route 66 existed) and it followed I55 the whole way south. I decided to finally get off Route 66 when i had it essentially WOT (wide open throttle) and was going 88.6 mph. seems i didn't install the flux capacitor correctly. I was on route 66 passing people on I55. Time to join the herd.
Join i did until i got a hit on the GPS for a starbucks. turns out that the GPS lead me to the southern illinois university. oops. I went to another location the gps had. closed for good. ARG. all i wanted was my 6pm coffee ritual!
I decided to push forward to St Louis. Rush hour traffic? on a saturday? WTF?? i took the nearest exit as i could barely stand any longer, let alone ride. I was dead tired... body, not mind.
I hunted for a cheap motel, and no such luck. I took a room at the comfort in. Worth the price i suppose, but it's not something i can keep doing. it's way way too expensive.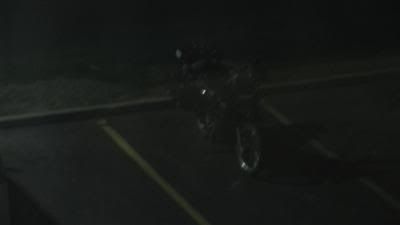 bike should be safe enough as i can see it from my room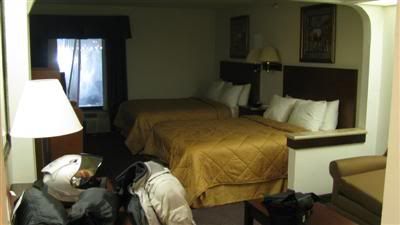 I'm a king dammit, i didn't ask for two queens! wha wha whaaa..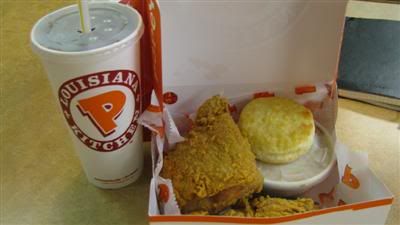 1st time at a popeyes. the skin is the best ever... the chicken, greasy and disgusting. rice and red beans were bland, and biscuit was ok. meh. i was hoping i found a good fried chicken place.


That being said, i am not going very much out of my way to find route 66, but i still hope to touch it again on this trip. I just want good roads, good sites and a good time. When it becomes work, it's time to pack the bags and go home.
Tomorrow i will be in riding in misery, i meant Missouri.