yesterday cost me a lot financially. I guess a little bit mentally and emotionally. just draining. i'm updating the blog a day late because i just couldn't get myself to do it. too exhausted.
I stayed at the Aztec motel. ok little place, nice people who run it.
the Aztec motel
There are Aztec ruins nearby (which i had forgotten about until i rode into town) so i decided to hit that first, before i go get a coffee or go see the mechanic in the next town over.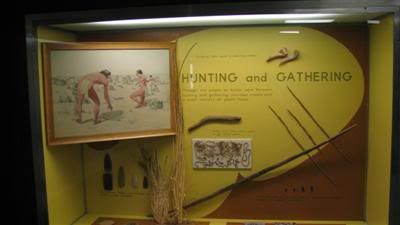 for him
for her
hah. here's one for you headcases... probably including myself here.
The ruins are cool, and the museum gives you a handy walking guide you read as you go through the ruins.
I liked it quite a bit. For $5, it was well worth it. as always, more pictures than posted on the link to the right.
if you are in the area, go there. worth the $5.
I knew there was a starbucks in the next town over, and i wanted a coffee very badly, but i decided to go to the shop and see if i can fix up the trouble with the bike.
Doug (from Doug's Kawasaki) took a look at my tire and noticed immediately that the bead wasn't seated. sn of a bitch. that's what happens when you change your tire at night in the dark. arg.
i asked him to put a new tube in and rebalance. I was also going to buy to front brake pads and a cruise control for later.
i went to get food (no much nearby) so arby's it was
i found this freaking hilarious. i know it's an old joke, but it was right there.
went back to the shop and the mechanic suggested i change the front pads now as they were down to 2 mil. wow, already? in wisconsin, they checked and had lik 4 mils on. i've been braking hard.
So, $170 later, i left the shop with a new tube, new front pads and now added confidence on the road. i'll put the cruise control on later.
Picture porn
I got to see something that was on my todo list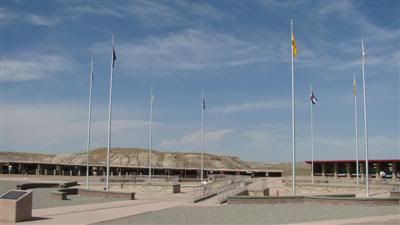 4 corners
I stood on the corners of the 4 states, Utah, Colorado, New Mexico and Arizona.
There were many Navajo stands here selling things, so i did pick up a few souvenirs.
They had a stand for Navajo Frybread. never had it. So i got one with cinnamon and powdered sugar and a lemon-lime sno cone.
i will say that the suit kept the sun off me, and don't regret getting a silver suit at all (even though it gets dirty quickly)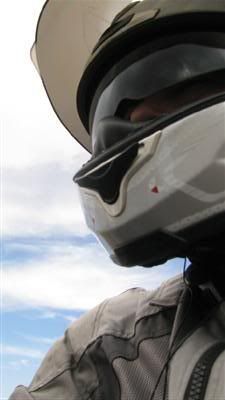 ONWARDS!
beautiful scenery in Arizona as well.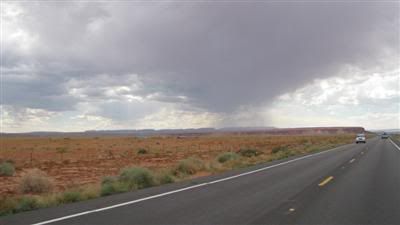 looks like a storm
seriously? no more pictures at this point because the wind was quite gusty, there was rain, thunder and lghtning. it became surreal at one point when there were lighting strikes on both sides of me, booming thunder and rain. all that was missing was my Bitch, the wind.
Spoke to soon. Coming over a pass, the Bitch nearly took me out and off the road completely. This was by far the worst ever. This is the first time i've ever had to pull over after a near crash. i pulled over asap.
The gusty wind was very strong here, blowing sand across the road like snowdrifts and also i saw tumbleweeds roll across the desert and across the highway. that was kinda cool.
here's the pass i almost died at.
riders on the storm?
I was pretty upset and shaken at this point, and getting late in the day so i decided to not go to monument valley. i'm already kicking myself for not doing so. what can you do.
It make me think about this trip and what i'm trying to accomplish. I may have misjudged and think that this trip is over ambitious. it's killing me.
30 days. only 30 days left and so many points of interest and seems i can do one, maybe two a day.
there's one pont i HAVE to go to and that's to see Tim in Florida. Can't bail on him! This happened last year too. I never made it to my intended destination. then i thought, there are no destinations on journeys... last trip i had a blast... this year... different.
I need to get into that headspace again and see what i can, and screw the rest (except florida) heh.
I flipped a coin at an intersection. north to Page, west to Tuba.
Page won the toss.
i'm hard on everything it seems. vehicles (look at my cruiser!), possessions, and people.
Finally got to Page Arizona. it's been a long brutal day. I have no cell signal there, and wanted wifi. no many places in town due to the sheer number of RUDE tourists. bastards.
Holiday inn express. expensive, but at least i can starfish on the bed.
It's 8am on Oct 2nd. luckily most of the rude tourists are gone, and now i can go have some breakfast, pack up and decided where to go. north or south rim. everyone tells me south, but the north is calling my name right now...