Before I forget, i'd like to thank you all for your comments. no real way for me to give feedback from them properly. I do read them, so post all you want! They do help sometimes... I sometimes forget i'm not the only one that reads this. heh.
Arizona doesn't change timezones. no wonder i'm a completely messed up with time. My GPS, Phone and Laptop all have different times. Laptop on eastern, GPS on Central, Phone on ... who knows, no signal in Page, Arizona at all. wtf.
Busy morning, trying to get everything organized, trying to figure out north or south rim of the Grand Canyon and taking care of business. got up really early and started packing the bike right away. Got a coffee from their hot breakfast area which was good and blogged about the day before.
I forgot to mention there was a local diner which had a retro feel, but not retro. It was used by locals mostly, had a couple old arcade games (beat up) an old juke box (also beat up) and served simple burgers, burritos, etc.
I was ... inebriated, so i eavesdropped on what the guy before me ordered. A double deluxe cheeseburger with a rootbeer float. hmm. sounded good, so i ordered that, and a side of tots too.
absolutely delicious! why don't more towns/cities have good places like this?
everything is premade and re-heated... not this place, it was all cooked to order. loved it.
another reason i left late is so i didn't get stampeded by the Bus Cows. fucking tourists.
do you really all have to eat breakfast at the same time? do you all have to bring 3 suitcases for a week's vacation? do you have to hit people with them without saying anything? assholes.
finally had breakfast and i almost puked.
it was that bad. Worse breakfast to date. i'd rather have a 10 hour old bean burrito than that breakfast.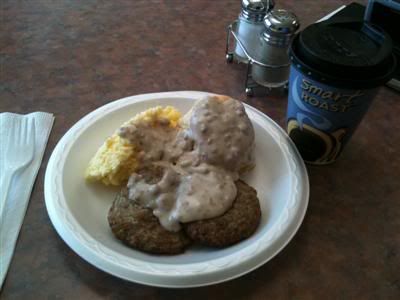 everything was bad. eggs, sausage gravy and biscuit. just bad. the coffee was good though.
I knew the visitor information center was on the north edge of town, so headed in that direction.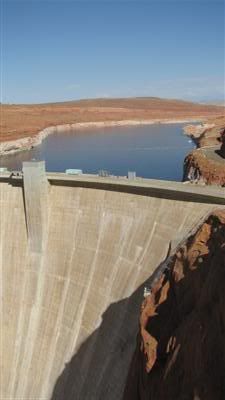 Glen Canyon Dam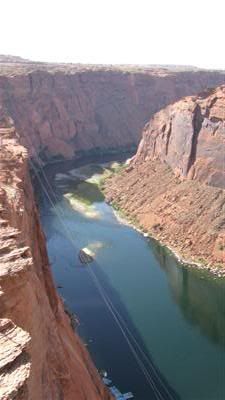 Colorado River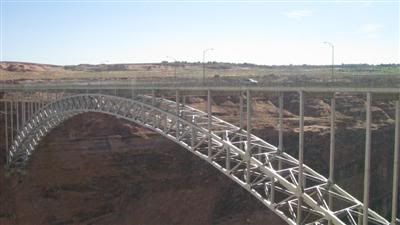 Glen Canyon Bridge
While i was on the bridge taking pictures is when i started to get a bit pissed at the tourists. You see, i'm not a tourist, I'm a traveller. There is a difference.
Herds and herds of mindless (often european and asian) tourists will walk in front of traffic, stand in the road, push you to get in front of you to take a better picture, get in your shot that you are about to take... shit like that. the walkway is narrow on that bridge and they would walk two wide, leaving no space for me and i had to stop and let them by, they weren't moving. Next time, i'm putting my elbows out, and i will throw my shoulder at anyone that comes close to me. hah.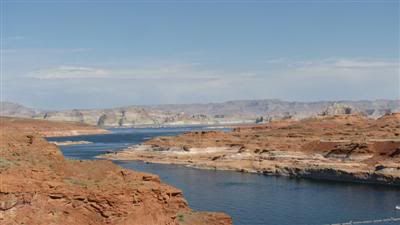 Lake Powell. It took 17 years to fill it. Hope the dam doesn't rupture or else you have 17 years worth of river water that would make a mess.
Still undecided about going north or south rim of the canyon, i kept asking people (at the hotel, a few guests i spoke to, the park rangers, etc)
All but the ranger said the same thing... if you haven't seen the south rim, you have to see it!
I told the ranger i'm a traveller but not a tourist, and she gave me a good description of both of them and said it's all about time. The north has fewer viewpoints (3) and the south has a ton. it's a direct correlation to the number of people that go there i think. hah.
I decided to head to the south because everyone says "You have to see it!"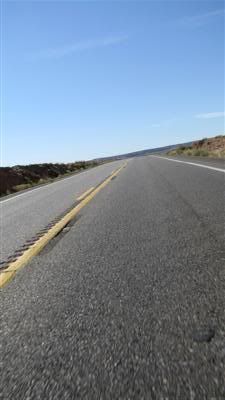 WOOSH!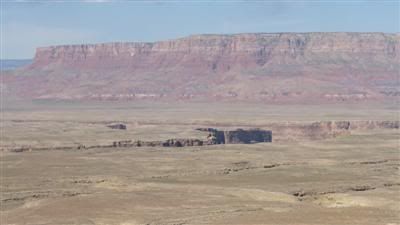 at an overlook where the Navajo sell their wares.
that big crack is the river.
Speaking of the Navajo. I've spoke to many of them, and i get the impression that they are a peacful people, proud, but you wouldn't want to piss them off. They have a very different outlook on life, one i admire.
Their arts and crafts are actually quite nice. Some of the pottery i saw was absolutely amazing. Too bad i can't buy any due to being on the bike, else i would have.
On this stretch of road i didn't take many pictures because the road was well worn and rough because of all the bus traffic. Gorgeous scenery though. if i had more time i would have stayed in northern Arizona for many days, alas i'm only passing through.
Stopped off for gas and saw a biker tour. I parked beside them and not one commented on my bike, my gear or even looked in my direction.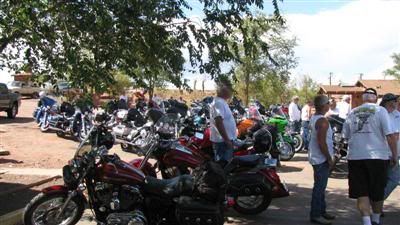 Did i fail to mention almost all on cruisers, mostly harley's and a single V-Strom? hah.
There's a huge trading post here which i fail to remember the name. absolutely huge. I must have been there for over an hour shopping around. If you're going to the south rim from Page, you'll hit it. it's the only one there.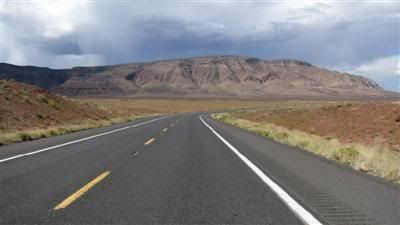 rain again?
guess i'm heading into rain. in the desert. again.
Before i hit the grand canyon, there was a viewing area for the Little Colorado River Gorge run by the Navajo. entry fee, $1. Seriously? i've spent more on bad gum. I went in, spoke to a few Navajo while looking at their wares. Friendly people. another thing, not ONE ever tried to peddle their stuff. They would start a converstaion and that's it. great people...
The Gorge is great. make sure to stop by and see it. I took many pictures and stood around and looked here and there... this is the start of the grand canyon really. I thought Wyle E. Coyote was about to fall off somewhere. hah. no tour buses either.
i'm gonna do it if you don't read the blog! lol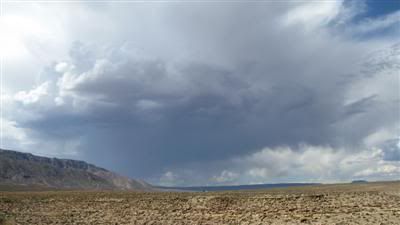 bad storm?
anyhow, you get the picture. it's a big hole in the ground.
at this point i was so frustrated with the tourists that i didn't bother taking my helmet off. the looks i got were awesome. hah. imagine if i still had my ears on.
I got to the main viewing area of the grand canyon and it was at this point i almost screamed out "What the fuck is wrong with you people" Everyone in a rush to go see something that's been there for what.. .6 million years? jesus. i didn't even go see the canyon at that view point. I left and rode around the Grand Canyon Village. saw a store/grocery store and walked in. did some shopping and got some food. That breakfast was still making my stomach churn.
2 piece chicken dinner, mashed wth gravy and slaw. Mountain dew Code Red.
food was pretty good actually. best chicken i've had all trip. sad ain't it?
I left heading south, not knowing where i was to be that night.
I needed a coffee bad, and the GPS got a hit for a Starbucks in Williams, AZ. guess what. it was closed for good too! DAMMIT.
I saw a coffee shop and stopped to get one until i decided what to do. good coffee. Like bridgehead or starbucks, but they roast their own beans on site. nice. I also found out later (2nd coffee, an americano) that it is the only location in existance. It's a one-of. awesome. It's called American Flyer.
While having my coffee and a smoke outside, i noticed this belonging to an asian couple. he was milling about with a huge pro movie camera it seems. this is their car.
I wanted to do some research on what to sight-see in this part of my trip and decided to get a room early. I walked across the street and asked my usual questions. Smoking or not, wifi, how much.
non-smoking rooms, and $60/night and yes wifi. I figured i'd keep looking for something cheaper and came outside to this.
Crap. Rain. lots of rain. I gave up and walked back in and took the room. lol
The town is mostly a tourist trap. All gift shops and restaurants. It's well done, all surounded by 3 things. the grand canyon, Natives and cowboys, and route 66.
It's really like Banff in that respect, but still small enough to have charm.