Today was the day i would get the best fried chicken in my life. I hoped. It was the one place that I must go to. I didn't know if i would be in the area in the future, and if something says it's the best in the world (more than one) then it's worth the detour i took. Sure, an addtional 200+ miles to go there instead of going directly east, but i had hoped it was worth it.
I took a picture of a truck that was parked beside my bike in the morning. Well, it wasn't so much parked as much as it was broke. The axle broke at the u-joint and it was on the ground. Can't be fun for him.
Off i went in search of a starbucks. It seemed there were two on my way to The Old Country Store (source of the best friend chicken in the world).
The GPS maps and data are out of date by 2 years, and the reason i have not updated it is that the maps for all of north america won't fit on it completely (without removing certain sections). Shitty. i'm not about to pay yet until i really need it.
I saw a cop way off to the left hidden behind the bushes. Seems i was going through a speed trap at 62 instead of the posted 50. He said that it's a 50 all through town.
I looked in my rearview and didn't see a town. I saw what i think were a few abandoned buildings and maybe a gas station. The highway there is a divided 4 lane. The speeds should be 70 IMHO THROUGH the town. He didn't know if my Ontario drivers license was valid. WTF? don't they teach police what their own laws are? YES IT IS VALID. he started comparing mine to a mexican drivers license and said at least he could read mine. No offense to the cop, but he was ignorant (i mean that in the nicest way) How are you not educated enough to know what is valid in your country? jesus.
bah. first US ticket i've ever had. I tried to tell him my speedo broke and he said he'd put it down to the lowest possible. How about letting me go? that would be low. meh. The ticket doesn't have a price. I'm assuming i'll have to call the office when i get back and haggle a price or something. Oh well, i don't care.
So, as usual, the GPS pointed me to starbucks locations that didn't exist any longer. I started uploading yesterday's blog and noticed the memory card for my camera still in the laptop. well that just sucks. I would have thought the camera would have said "No memory" or something. oh well. in it went. Guess no picture of that broken axle then.
JESUS!!!
something is running around my tent. Didn't like the sound of that...
Anyhow, the coffee at this place was good and it had wifi even though it was slow outside where i was in the sun. felt good to sit and do nothing.
Off I went some more. I found Chevey Chase.
See this road? 50 zone. WTF??
Cotton fields, but no one picking them... where are those crackers when you need them?
Neato bridge over the mighty mississippi
The mighty Mississippi itself. Second time i've crossed it on this trip, St Louis being the first. I crossed it last year as well. I consider it a milestone :-P
it was a whoohoo moment. not sure why. just was.
This is what awesomeness looks like. Ok, maybe just a similar facsimile.
Crossing the bridge brought me to Natchez and i felt like taking the Natchez trace parkway... all the way north. But alas, i was on a mission today. I'll be back for you Natchez-Trace... i'll be back
Chicken
.
I didn't go 8300 miles to miss the on thing i HAD to do.
I got the The Old Country Store. No real frills, a little odd old place in the middle of nowhere along us61.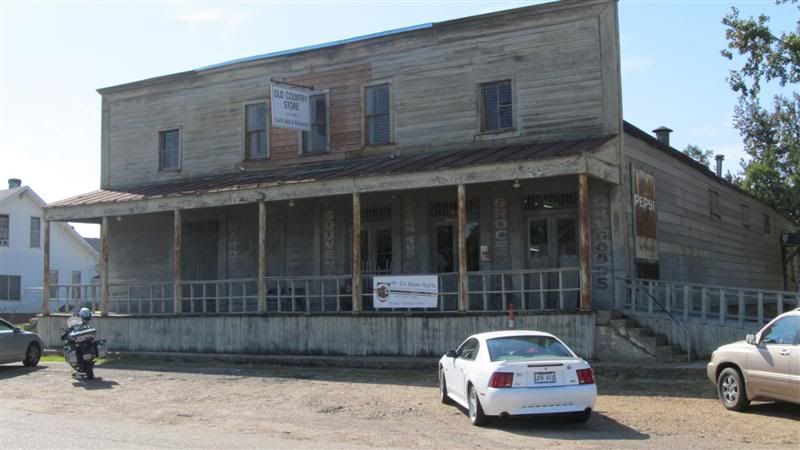 The Old Country Store.
serouisly nothing around. Here's looking south
It's a quaint place, a country store by the old standards, with a small buffet in the back.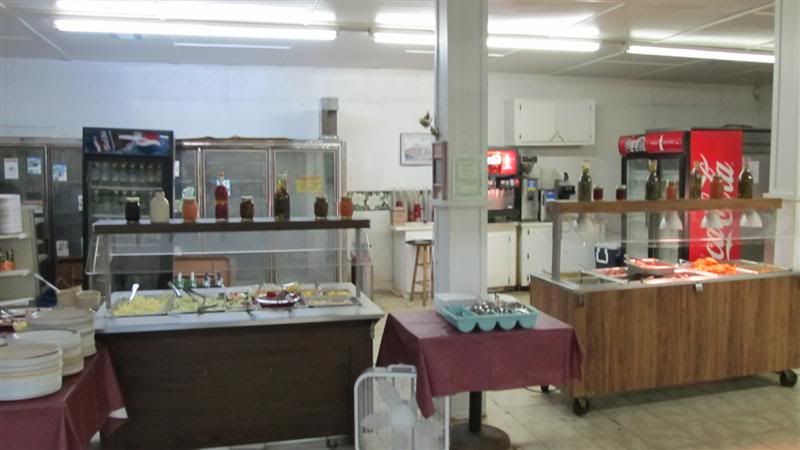 This is the Buffet. Left is cold, right is hot. doesn't look like much right?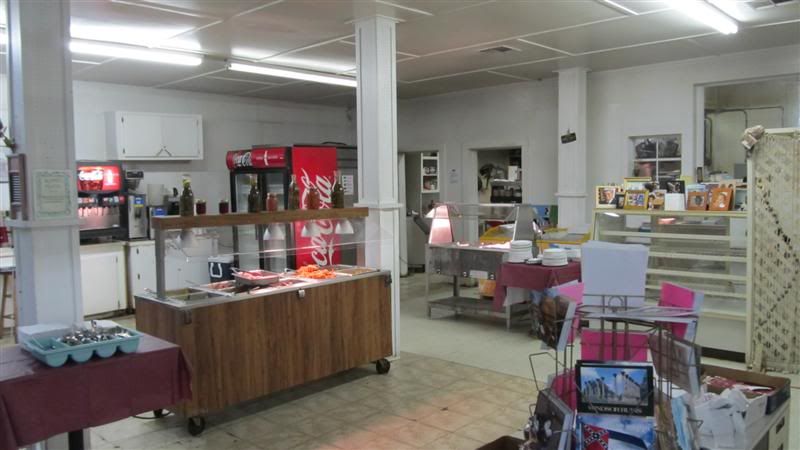 wrong. See that doorway in the back? Mr. D kept coming from there,continually filling up the trays.
I took a small plate at first, 3 pieces of chicken, a ham steak (bone in) some egg/potato salad and green beans.
honestly, it
IS
the best chicken in the world. I shall never eat better fried chicken in my life, unless i return. seriously. i'm not kidding. The skin/crust, the best i'd ever had, while the chicken was moist and not greasy. I usually do not like the taste of chicken to begin with, as it needs something on it. I put hotsauce on KFC to make it edible.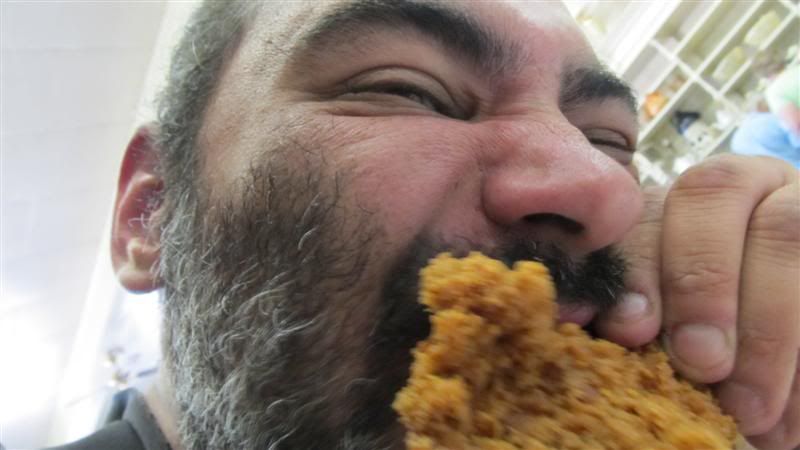 nom nom nom
This needed nothing at all.
JESUS... more noises around the tent.
The ham steak was really good, and so was the green beans and salad.
I was stuffed, but they had other foods too... Ribs, rice, etc... a lot of food actually for a small buffet. Quality over quantity. If someone leaves there not satisfied, they have no taste buds.
I went back for a second plate, i wanted to try more than just the heavenly chicken.
I started by taking some slaw, more potato salad, beets, mustard greens i think, and there was a single piece of chicken i was eyeing. Before i could grab it, Mr Arthur Davis (best cook in the world IMHO) came out with a HUGE tray of freshly fried chicken, While saying/singing, Here it is, don't be shy, eat all you can. He seriously loves it here. I admire this man. He's good at what he does, and he knows it, yet he is truly and honestly happy with serving his chicken. That's pride. real pride. i bow to him.
I had to take another piece of chicken (even though i wasn't hungry) and tried to take a small piece. No go, all huge pieces of chicken. I also took some corn and dirty rice for good measure.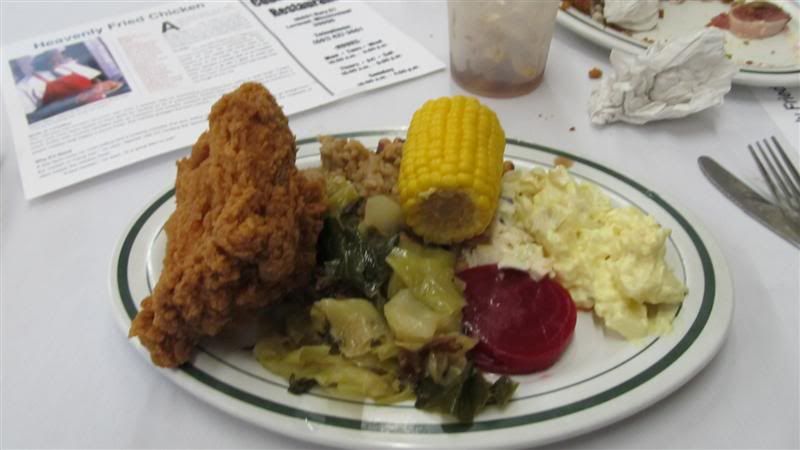 Massive piece of chicken... nothing smaller.
Everything was really good. Honestly, i wish i could eat QUALITY food like this all the time. Damn corporations are ruining the world.
I seriously hope they NEVER change anything. It was superb. an experience like non-other.
Total price of the buffet with a drink (free refills) less than $13.
WTF. if i ate that much at KFC or any other fast food, i would have spent at least $25 and the quality wouldn't be there.
when paying, he asked if everything was good. Srsly? has to ask? A humble man. very rare breed of person this one. Truely awesome.
There is a lot on the walls of this place to read... all of them praise, from some influential people.
But something caught my eye, and there was no clutter around it. I also found it interesting that it was directly opposite the cash, so whoever is behind the cash could read it.
This guy follows it. srsly.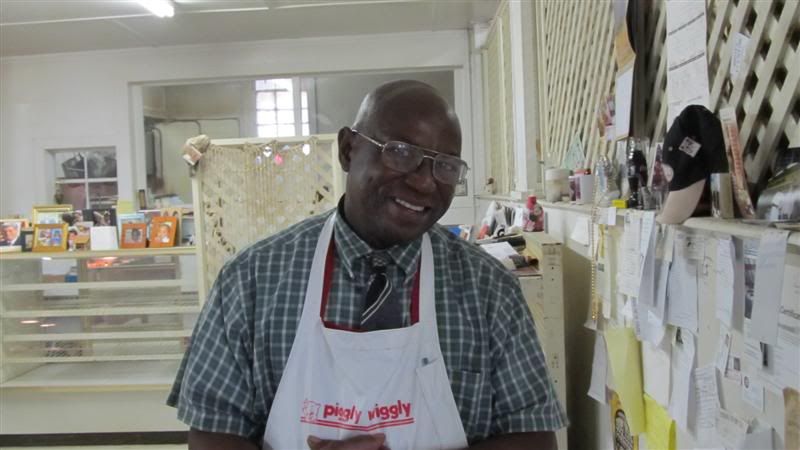 Mr. Arthur Davis. What a man.
I left, belly full and knowing i won't have to eat for a long while.
Some of these roads were nice... A little scenery, but a nice quite sunday ride with no real traffic.
I Went to mount Olive, but Popeye was going to kick the shit out of me. heh.
I really wanted to go to New Orleans, but i may be too late for today. I stopped in at the visitor info of Louisianna from Mississppi and looked for a map. They asked if i needed anything else and asked if they had any state campground info. They had a ton of info actually, both state and private. bingo.
Now my quest was to find some lodging for the night. I was going to check out the campsite on the other side of the lake from New Orleans (40 min ride across the lake on the causeway) and it has everything i needed for $18 a night. not bad. The only thing is that it is seriously right on the swamp. Kinda cool, kinda spooky. heh.
I did go to a starbucks for a coffee, and since i had to wait a few mins for the coffee to finish, it was on the house. Cool.
I checked my tire pressure and it was severly low. WTF. I pumped it higher than normal (32 front and 36 rear) due to the load i have to see if it makes a difference.
Nope. Wobbles at low speed and high speed. Maybe a bearing is bad in the front or the tire is out of round. I need to get it checked out. Perhaps loose spokes too? dunno, i'm not a mechanic! It does handle better than the 17lbs it had in the front and 28 in the rear. maybe the last mechanic took air out? i dunno.
damn rustling around in the bushes is driving me crazy.