I had decided to wake up very early and go to Meteor crater, which was an hour and a half from where i was, then i'd have to back track that distance and hopefully go past Las Vegas for the night.
it was a nice ride past flagstaff to meteor crater.
huge.
There's a museum (indoor) here which is actally really well done, and well worth the $15 price tag. A lot of interactive set ups and edutainment. It's not a big exhibit, but it's very well done. Did you know they astronauts trained at the crater? I did, but that's besides the fact.
like i said. massive.
Was hungry and they have a subway there for food, so i ate. I also got a free cookie with admission. yippie.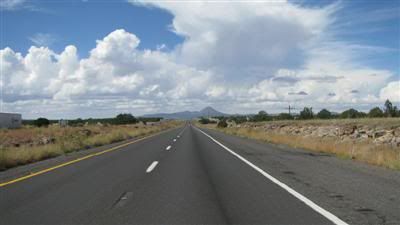 back west i go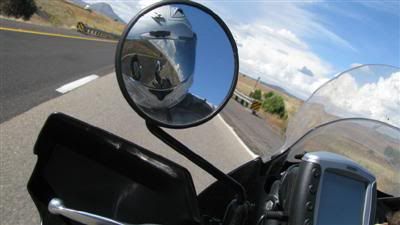 HERRO!
pictures will never do any image justice. you really have to see things for yourself as your eyes are better than a camera...
and you know what i did in Las Vegas? look for Wifi (couldn't find it), got frustrated with tourists on the strip, and went by Fremont experience. now THAT i want to go to. I'll fly in at a later time. Fremont has the old school casino style. love it. All cheese. On the other hand, the drivers here are absolutely CRAZY?
can someone tell you americans to get the fuck out of the PASSING lane? it's a passing lane. not a 'i want to stay in this lane forever and ever for no reason while i talk on my cell phone and eating a burrito'. fucking idiots.
I went as far as hitting up a McDicks for food and wifi, only to find out their wifi was busted. shitty. I needed to know what road to take to get to Rachael.
leaving las vegas... nice, the storm is following me.
damn, just busted my backspace key.arg.
I headed north, hopefully going to find a motel or a camping spot up the road...
i was raining quite hard so i decided to pull over and put everything that could get wet put away.
wait for it... wait for it...
heh.
I kept riding for a long time... that basin is huge and turns into a wildlife preserve. since i was in a basin, i didn't realize how fast the sun does set and started getting darker, and rain. meh.
I found the turn off for Rachel, NV (where the alien Cafe is) but decided to go to Caliente where they would probably have a motel and wifi (which they obviously did)
It became eerie riding at dusk in the basin... essentially a big bowl of desert surrounded by mountains. Then it got dark. real dark. pitch black dark. and i never got that shine job i wanted. heh.
It turned from eerie to downright scary. i avoided running over a rabbit (it avoided me rather) and finally got out of the basin, and more into a canyon. Now, i like canyon runs, with many turns and blind corners, but not in the dark, and rain. Did i mention cold? it was really cold. i shivered.
I got to Caliente at around 7pm, it was already dark at 6pm. it's getting dark earlier these days.
the motel is a gas station/restaurant/car wash rv park all in one. everything you need basically. I walked into the restaurant and they were closing, but the cook said he'd cook me something but to hurry up. awesome. only in small towns does that happen. everywhere else, you're just a number.
I don't regret backtracking today, losing 3 hours in the process, but i pushed hard today. real hard. I did over 840km, left one desert for another, saw a huge crater, learned a bit more about earth impacts, saw a huge dam, rode through a huge city, avoided tourists at all times, and rode through the basin during light, rain, dusk and dark. BTW, a crap load of bats around here.
pretty awesome. now i'm tired to all hell. bed. tomorrow, the push for the loneliest highway in america, US 50.