I woke up and started breaking camp. I had to pay for the night's stay but the office didn't open until 9 and was 7:30 or so. I packed everything up, and went towards the river for a walk. These are called Arundo, an invasive plant from Asia. They are taking over everywhere. 20' tall or so, and looks like bamboo.
I took a picture, but something in it caught my eye as i took a picture.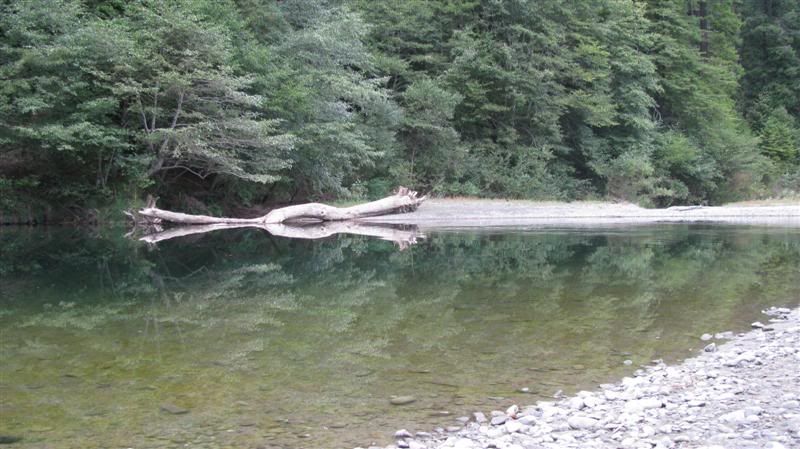 a ripple in the water?
I tried to snap off another, but missed it.
Got ya this time!
See?
An Otter!!! never seen a wild river otter before. neato.
I haven't seen much wildlife on this trip, A few deer on the side of I-5 as i came into Oregon, a couple of Foxes here and there, and birds. Lots of birds.
I did see my share of dead animals though. A huge Elk by the grand canyon entrance, deer, coyote, rabbits, skunks porcupines, rat, cats, dogs, and other small furry unrecognizable pancakes.
it's nice to see we haven't run over all of them.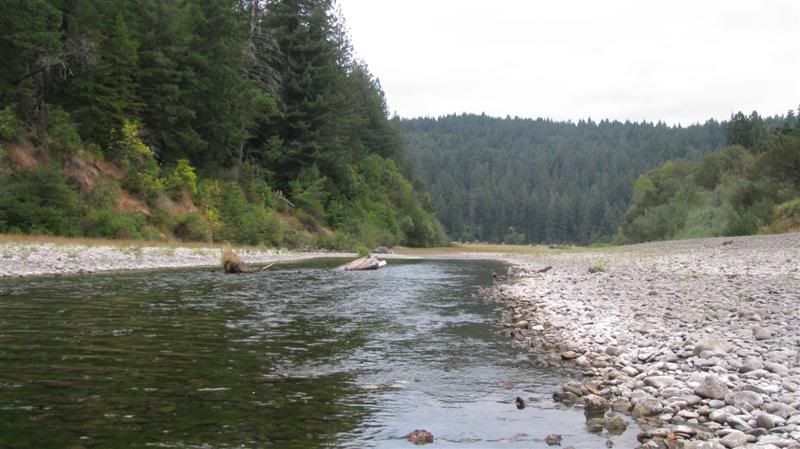 Eel River
Today the plan was to hit the US-1. heard it's pretty good, and the National Geographic book says it's pretty awesome.
I paid the campground the $20 i owed, picked up some small souvenirs and I rode south and hit a town called Garberville. This town was strewn with hitchhicker/granola munching/birkenstock wearing hippies. Tons. more of them than the population. Did i hit their Mecca?
I spotted a place that regulars would hang out and went in. The burgress restaurant. The prices seemed high, $10 omellette, $2 coffee. meh. Who cares, just money right?
Wrong. It was worth every penny. home cooked, and loaded up.
ham, bacon and cheese omelet with hash browns and biscuits and gravy
I overheard a conversation while i was eating.
"Did you know the indians weren't the first people in north america? it was whites, they came over 3, maybe 4 thousand years ago!"
Really? you fucking serious? are people that ignorant? 13 to 17 thousand years ago, early humans migrated out across Beringia. ignorant idiot.
Anyhow, breakfast was awesome.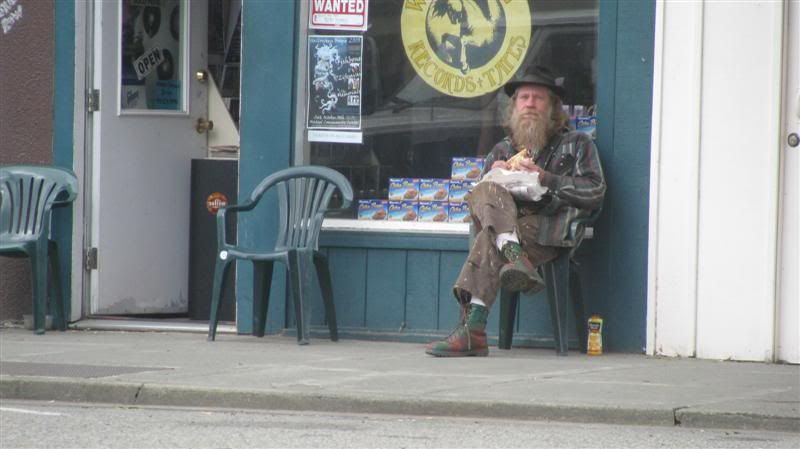 a guy across the street eating his breakfast.
Seems the owners around here don't like hippies either, as found on the outside door to the bar/lounge attached to the restaurant. Damn hippies.
Right after Garberville i took the US-1(california 1 north), the best route in California. WOW. I couldn't take pictures because When i finished my apex on one corner, i was already swinging the bike over for the next corner. highly technical, even though it's a slow road. Most corners are 20-30 mph and i was able to take them at 30-35 mostly, some even slower than the posted sign. A brutally technical road as the road would be a hairpin left, rapidly reducing radius, but a bank to the right, on an incline and declines. Did i mention all corners are blind due to either being next to the mountain or soundrounded by big trees? srsly.
Now try that with a top heavy loaded up dirt bike. hah. It's pretty awesome when you're in a right hand corner, you're near the center of your lane and your helmet brushes against the weeds that grow 3.5 feet. neato.
Talk about joy and excitement.
us-1 between the start and Fort Bragg. only one i could take, or wanted to. from a pullout at one of the straightest sections
Right before hitting Fort Bragg, there were a lot of trees blooming it seemed. Something smelled nice, spicy not flowery. Got to fort bragg, and fueled up. I hit reserve a little while back and i think i was running close to empty. I still had about 1/2 a gallon left or so (plus i have a Litre of gas stowed on the bike) currently at 44mpg. not bad considering how i'm riding it on and off the throttle and loaded the way i am.
Leaving the Fort Bragg starbucks, i notice my headlight is out. FUCK. I didn't bring a spare. South i went and hit the ocean and redwoods again, and now in search of a spare bulb and a camera as mine is having more troubles as time goes on. pretty soon it's going to die.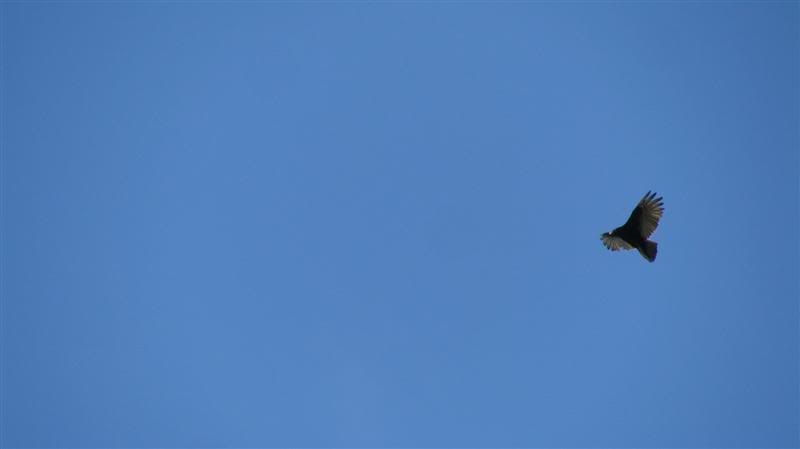 a lot of these circling above. ospreys perhaps?
Again, technical, but pretty awesome.
a big rig hiding behind a tree. the big trees are big.
at some point i missed the turn off to get back onto the US-1, and was suddenly on state highway 128. Looking at vineyards. Lots of grapes and vineyards. WTF?
GRAPES!
Ocean, Vin yards, Mountains, roads with curves, Giant redwoods, all within a 20 mile radius? unreal.
I stopped into Boonville for a coffee as the gas station (good coffee) and started checking my map. My USA map isn't detailed enough to see the small roads, but the GPS found a road called Mountainview road that ran from Boonville to the oceanside.
This has to be the most technical route i've ever taken. I thought the first part of the US-1 to fort bragg was tough, this was tougher. Tighter turns, no posted speed limits anywhere, Rough roads everywhere, bad patches, sometimes divided, sometimes not, and some sections only 8 to 10 feet wide, up to a max 20 feet or so. Scary ass shit. Did i mention no guardrails anywhere? Awesome ride. The KLR felt at home, hammering on and off the throttle and going over the bumps and dips. only bottomed out once. heh.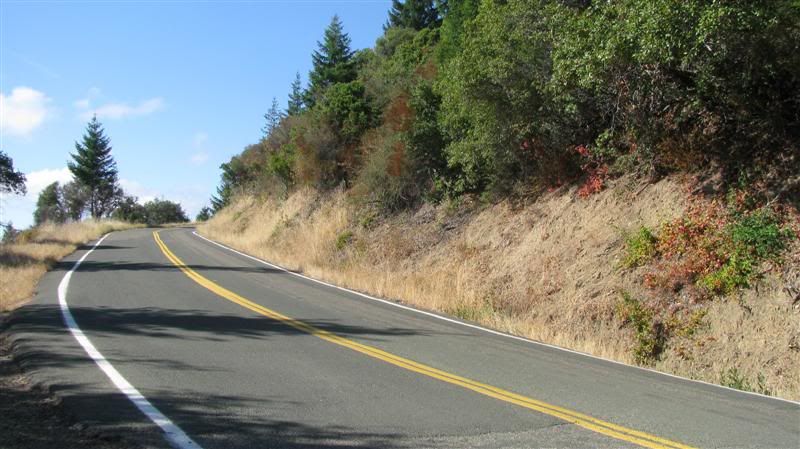 notice the lack of guardrails?
If i get to hit The tail of the dragon, i'll have to compare. They boast the toughest road to ride... i'm
I missed 20 miles of Us-1 on my little detour. oddly enough it's the section that isn't mentioned in the book as being good. bonus. Instead of going 20 miles, i did 53 miles, 23 of those the twistiest nastiest roads ever. loved it.
shot from US-1, i was in those mountains
I got back on California 1 north. WOW again! As technical as the first part to Fort Bragg, but this part was sheer cliffs instead of big trees. A little different mind you as there aren't as many blind corners as the fort bragg run.
It was about 5pm, and i knew dark would come soon, so off the US-1 i went, heading towards Santa Rosa. You see, it has a best buy. It has an Auto-zone. It has motels. It's got what i need because i don't have a working headlight, a bad camera and i'm smelling pretty ripe.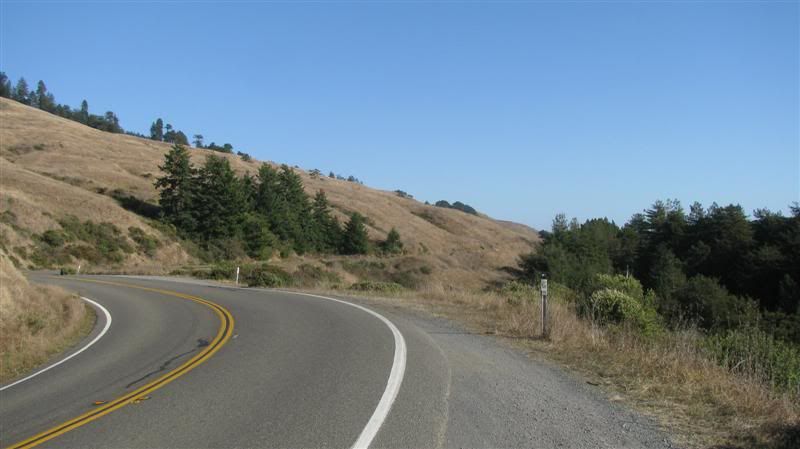 notice the lack of any railings??
the road is pretty much like this the whole way. no railings, and a few hairpins. hah.
I took a room in Santa Rosa and there was a diner across the street and a gas station nearby. all i needed.
Looked 'ok'
Hungry since i didn't eat since breakfast...
The meal was great. everything cooked properly and tasted fresh.
Salad!
Garlic bread.
Steak, Scampi, baked potato and veggies.