To answer some Comments:
"Where's are the pictures of the "Chicken Ranch"--You can't go through Nevada and not show us one brothel ;)"
Most of the towns i went through were pretty empty actually, not even a general store, let alone a chicken ranch! i went through the middle of nevada, not the southern border, where i believe they all are.
"So what's the mantra when you get cold?"
"There is no cold, there is only pain..."
Stupid mantra, i know. I just focus and ignore the pain. I do the same at the dentist, etc...
I got up a little before 7am, and started the day with the usual routine. smoke. check Facebook. Pack. Leave.
I don't bother with the weather anymore. Locals give you better information than the weatherman, plus i'm going in a prescribed direction. If it rains/snows, than so be it. I'm ready for it. Well, not the snow.
It was quite cool, but i had my liners in, so i was not too bad. My hands were freezing though. Need to buy new gloves along the way as i'm sure to hit snow at some point on my way back home.
I took the the interstate heading northwest (turns southwest) and put some miles in right away. I stopped in at Shari's restaurant for breakfast.
I got this:
It was not great for the price. Damn chain restaurants.
They had this which i found amusing
Why bring her a pie when SHE SHOULD BE BAKING YOU ONE?
Imagine my non-surprise when i see this mystery machine in front of me, right before we hit the California border.
The shaggin' wagon. Was very hippyish. I passed it and two hippies were in it, loaded to the gills with their belongings. Probably a hippy convention going on somewhere south or they are going to their hippy Mecca. who knows.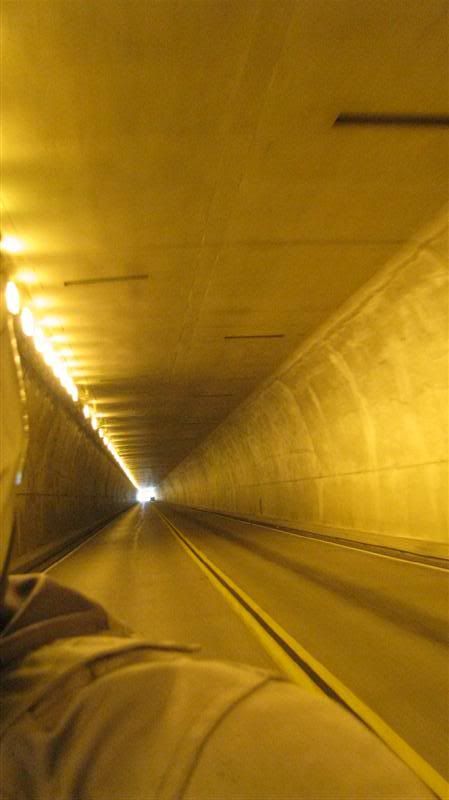 Head away from the light!
I rode through the first part of the redwoods. AWESOME. A wonder of the world i think. seriously, the road is in mint condition, and it's truly a sight to behold and drive through.
big trees, nice rode... not very forgiving for mistakes though.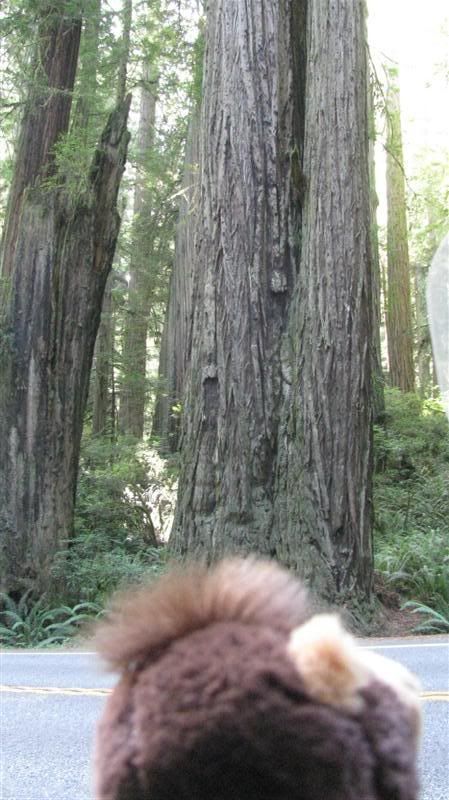 San Simeon pondering over a tree. Yes, SAN Simeon. Like the city in California. Heh.
Beast was running really rough for a while, but during the Redwoods, Beast seemed to smarten up, or maybe i just pushed it harder and didn't care. What a wicked ride. I need to get Beast looked at, as it's really starting to bother me and worry me a lot.
If you haven't been, you must go.
I got to Cresent City, and got the first look of the Pacific from the USA side. Last year, i kinda saw it, but i blasted through Seattle and didn't see much of it. woohoo moment.
lame fact.
everytime i hit a milestone (in places i wanted to see, border crossings, etc) i scream WOOHOOOOOOOooo!! into my helmet.
another lame fact.
whenever i see an animal on the bike, i usually mimic the animal (moo for cow, etc). Once per state. Dunno why. i just do.
I rode through more redwoods and hit another location i wanted to see.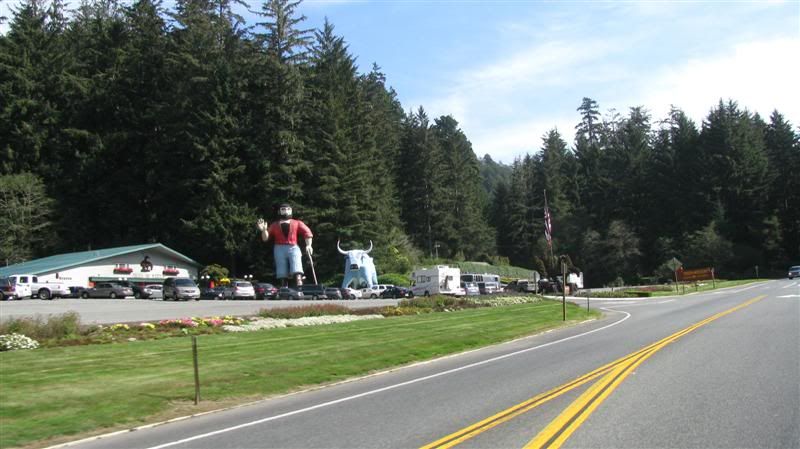 Paul Bunyan and his huge blue cow?
Another woohoo moment. 18k. no wonder the bike is running rough. I haven't done the 10k maintenance on it yet except tires and oil. I hope i didn't ruin anything! i was starting to go into panic mode because when i hit 18k, i couldn't go up a 2% grade in 5th gear while keeping 60mph. sad.
wait for it....
shots on the way to Eureka.
I stopped in the Kawasaki Shop in Eureka, and EUREKA it was.
I got there at 2:30 and the mechanic wouldn't be back until after 3. wait wait wait. Saw a nice pair of gloves, but decided on picking them up later.
The mechanic (Jack) said that he wouldn't have time to do what i needed (spark plug, oil, air filter, etc) today as he had an appointment.
I asked if he had time to do the oil and Air filter, and he said after the appointment, but he would start on it now.
Sweet.
first up, air filter. Black with oil. bad. I let it go way too long and i was starving the engine for air. He said it was "really bad", as in he never saw it that dirty before. hah. It took a while to clean it, then he put it aside to dry. It needs to be completely dry before he can oil it.
Next up, oil. Black as tar and just as thick. Bad. I've been riding the bike really hard it seems. The appoinment was for a tire change, and the guy wanted it left overnight, so he finished up with me completely. He also changed the idle back to where it should be as i fiddled with it when i was at a higher altitude.
Beast was in better form. He said change the oil soon, and get the maintenance done on it as soon as i get back home. Jack was a good mechanic. with all he did, he charged me next to nothing. 2 quart oil change an labour. $48. really?? cheap. if you're in eureka looking for a good kawi mechanic, ask for Jack.
While speaking with the guys in the shop, i was informed that Humbolt university is quite... Hippyish... and they don't recycle! There were a lot of backpackers going south, none north. All hippies going to La La Land for fame and glory? odd.
I wanted to hit the Avenue of the Giants and go through before it got dark. It's really hard to take good pictures when you're having a great ride. You don't want it to stop. you don't want to stop, you just want to ride. It's also hard when it's dark in there during daylight and now being 5ish the sun was setting fast.
hugging an average sized tree for Elaine
It was near dark, and couldn't find a motel or anything open, and saw a sign for campgrounds. Jackpot! i should have been camping more, but i hate to camp in bad weather. They were closed and i self-checked in. IE: i picked a spot and put the tent up.
I was by the Eel River, and could hear it burbling. I set up the tent and went back into the little town to see the general store was just about to close. I snuck in and picked up some stuff i could eat.
and here is what i made:
I figured i could make myself some sort of chili burrito with the corn tortillas. I was wrong. While the chili was good, the tortillas were hard and horrible. Gross.
It was lacking a certain something, so i added some Sourdough Snacks and some Smoki Roni into it.
Delicious! sure, it looks like dog-food, but it was good.
I made myself a tea and did the usual map stuff, writing and putting songs on the GPS. finally went to sleep at mightnight, with the sound of the gurgling river... and generators. WTF people, this is camping, why do you bother to leave your house, to set up a tent, with chirstmas light and stay there for weeks on end. WTF is wrong with you people.
Night.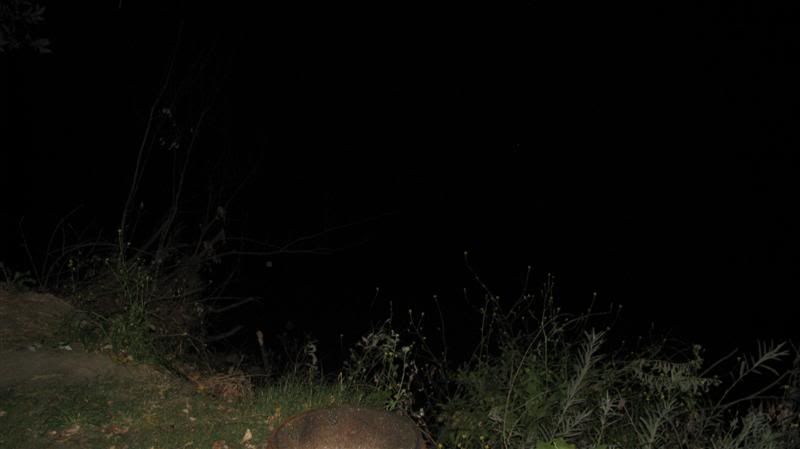 a view of the Eel river from where i sat.