La, la, la la la la la, la la, la, la.
how apropos. don't know the song? watch it here.
a horse with no name on
youtube
The weather forecast had severe storm advisories for mono lake and everything west of me. crap. Guess i'll head north then. If i'm going to hit bad weather, i might as well go big or go home, so i'm pointing myself in the direction of the giant redwoods.
Still in the desert, still raining. WTF?!?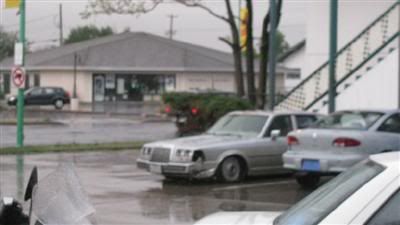 Low Rider, gonna take you higher. Damn thing was on the ground almost. brutal, guess someone lives in the motel.
got up early, as i had to do laundry. I saw a coin wash last night on my ride around town, so i headed there. I like to do ride-bys in new small towns to get myself oriented. room, check. food, check. coffee houses, laundry, etc.
The door was open, but no one there. There were cameras so i'm assuming someone was watching from somewhere. I wrote in my journal and played the one game that was there at the coin wash. a pinball machine. hah. played 2 games. a good waste of $1.
by 8:20 i was all done and heading west, into the rain and hopefully not snow. I rode around trying to get my passport stamped and couldn't find anything open. Got gas, and the gas station was able to stamp it! sweet. one left.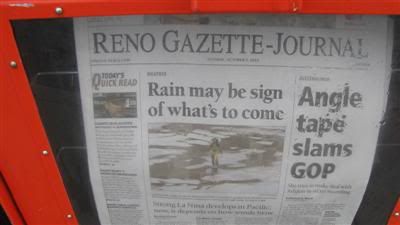 bad news. la nina is to blame. looks like bad storms all along the west coast. sht.
really bad rain and winds towards fernley, the last town i had to hit on US 50. By the time i hit fernley i was soaked and my feet were getting really cold. holes in boots doesn't make them waterproof anymore.
In Fernley, i decided to dry out and get food and coffee. I went to the Wigwam inn, casino/restaurant.
Neat little place, a place you can still smoke in. hah.
I figured i'd need energy today so i got this:
steak and eggs, hash browns and rye toast.
Before eating i popped $5 into a quarter slot machine and played until my food arrived. got up to $7 and cashed out.
after i ate, i decided to play some more, so i played the $7 again and lost it. I put a $20 into a penny slot machine (9 lines) and got it up to $32. I decided i was going to see how fast i could lose it... i didn't expect to win anything, i was there to have fun and to gamble at least once in Nevada. It was fun for an hour... heh.
I hadn't put on the rainsuit this morning as i thought it would calm down a bit. nope. got way worse.
I was soaked, freezing, and exhausted. my hands were numb.
I stopped in at a starbucks near a grocery store. I made some purchases. rubber gloves and garbage bags.
I figured that i can use the rubber gloves over my gloves, and the garbage bags for my feet.
Don't laugh.I thank Charlie Boorman for that trick on the Long Way Round documentary. He said it's an old trick.
I went to the starbucks and got myself a Venti Americano. I needed it then, and knew i'd need the caffiene down the road.
Off to the bathroom with an armload of clothing.
I was wearing my suit with liners, but only underwear and t-shirt under it.
Here's what i put on. Fresh wool socks, garbage bags over that, long underwear (top and bottom) t-shirt and jeans.
I donned the suit again, and added the rain jacket to cut wind.
It seemed to work quite well and it took me about 40 miles before getting cold again as the rain was unrelenting. The road was actually quite treacherous. the camera was packed away for a while, until the rains would stop and when i could pull over to take it out.
My hands were still freezing, but i've ridden in colder and i would deal. I actually have a mantra i repeat to myself when i get cold on the bike. odd, it works for me. heh. raw determination? dunno. don't care. it works.
I was well into California by now, but with all the truck traffic, and bad weather, i missed the sign.
I noticed something odd. One side of the valley i was in had trees (the west side) while the east side was a desert. Freaky.
Things seemed to clear up a bit at Susanville where i got gas, but it was still sporadic rain, so the camera stayed in the bag.
A lot of road work through here on highway 44. nice roads, a lot of trees. not much to see.
finally got a chance to pull over for a break and take the camera and rain gear off. From this point on, the weather was beautiful. I hadn't seen clear skies like this for days. I just rode. a lot. the bike was responding a little better too. It's most probably because of the lower altitudes.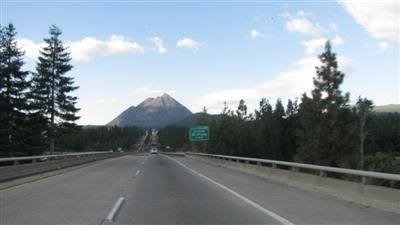 I5 north towards Oregon
Mount Shasta i believe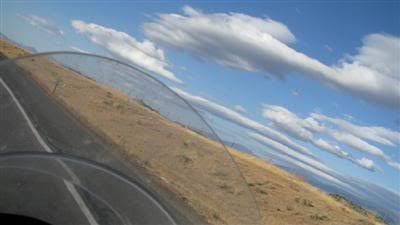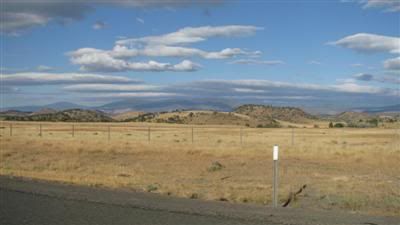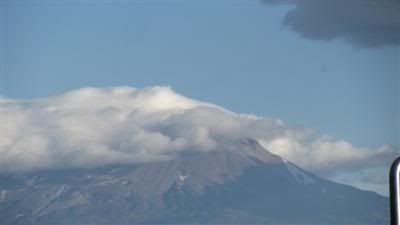 got gas, saw this
My new favorite picture.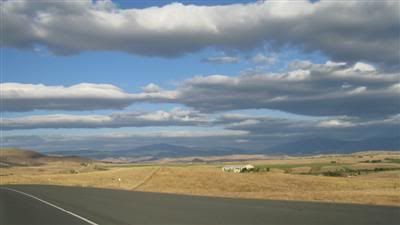 The pass between California and Oregon is pretty much pure awesome. Long sweeping curves with a 65mph speed limit, it was great. I was hitting up to 80 downhill, 65 uphill in 4th gear. hah. I had to keep changing lanes to pass all the slower moving trucks. It was mostly truck traffic, as i didn't pass many cars. I think i passed 2 cars, the rest (about 50+) were big rigs. no place to pull over for pictures, and too dangerous on that road to take pics while riding.
I did manage these after i passed the Oregon border (which is on top of a pass)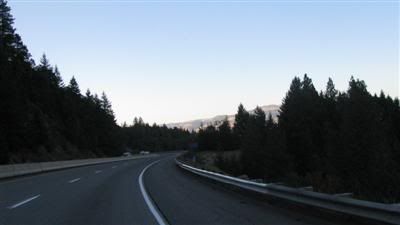 probably the straightest and least inclined stretch of the I-5 on the pass.
The pass inclines are 6% or so... not too severe, but when you add the corners, it's fun. wish i had a sport touring for that run.
I got into Ashland (i thought it was Assland, land of the gays but i thought that was south, near San Fran.) lol
Took a room at a motor court. It has the same features as every other motor court.
a covered entry to the motel office, usually two stories, with all doors on the outside, and a pool. classic retro motor court.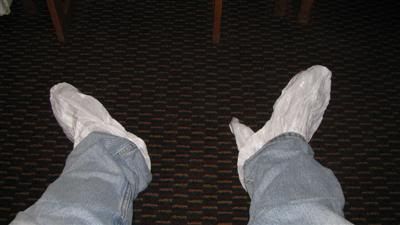 garbage bag socks. looks goofy and kind of uncomfortable at first, but it keeps you warm.
The office lady said that the restaurant next door was good, so why not.
I took what seemed like a local thing...
Soy halibut, prawns and Calamari stir fry over rice.
crispy salad!
seafood on rice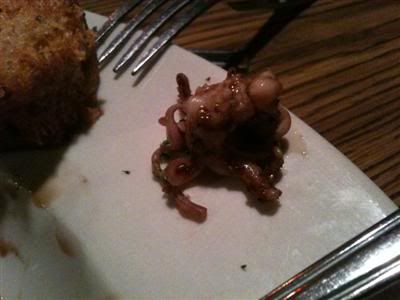 Admiral Ackbar's cousin. he was trying to get to the moon endor.
I've been through the desert on a horse with a name (beast) and it feels good to be out of the rain.