Before i forget, Any of you anonymous ones out there reading that don't know me, ship me off an email if you want :)
Today was going to suck, i knew that before hand, but still...
I got up early and ate breakfast before i had to drop the bike off at the shop for 9.
The breakfast at the hotel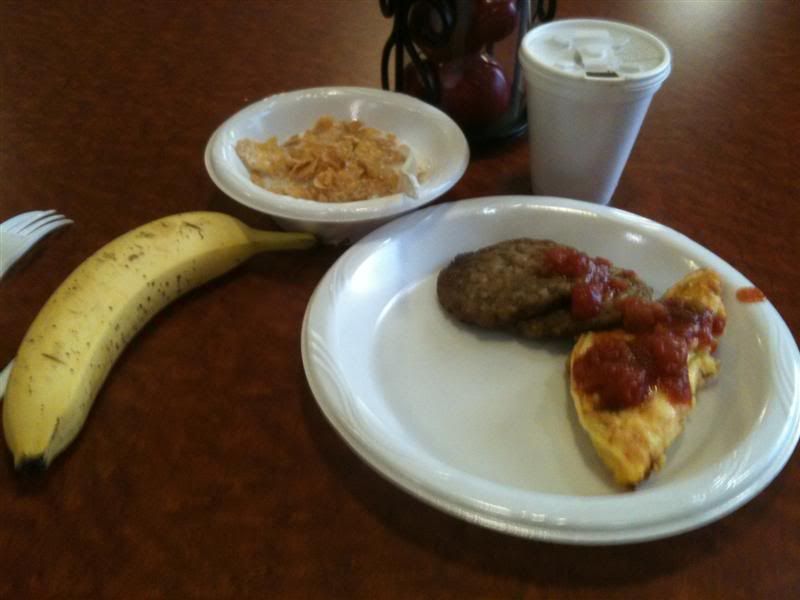 eggs, sausage, covered in salsa, a banana and frosted flakes. meh. free breakfast, not half bad. I'm not into toast or bagels in the morning... neither making my own waffles.
I took the cases off the bike and brought them up to the room, and brought the bike to the shop at 9.
Back to the room to wait for my FedEx package... I really didn't want to miss this.
Got really hungry (probably because i didn't eat last night) and went out and about in search for food nearby. I told the front desk to hold a package if it comes.
I walked over to the bike shop and it seems they got the chain, but no sprockets.. it was on the truck, but wasn't delivered.
A lot of car customizing shops in this corner. check out this guy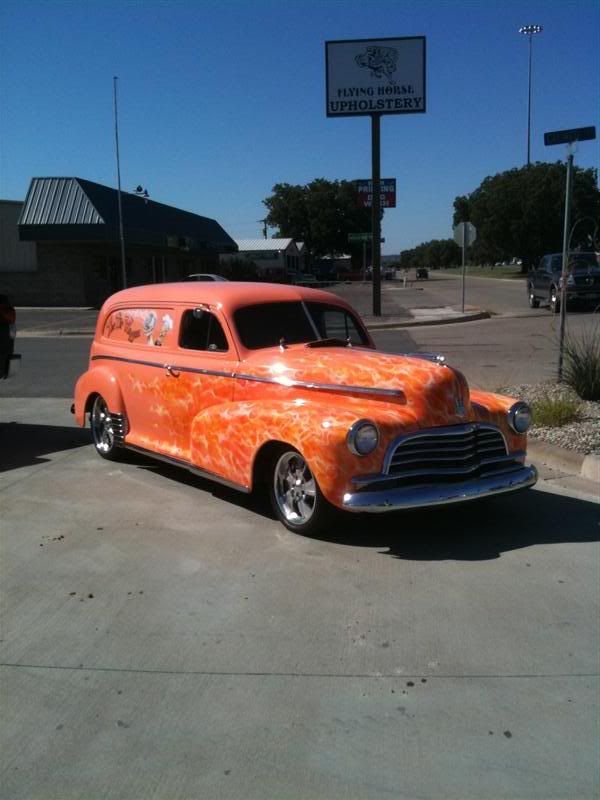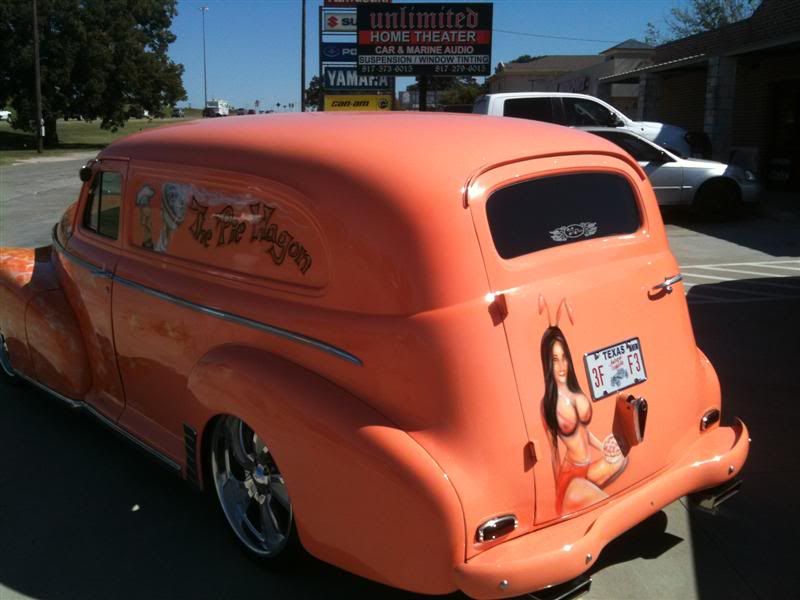 The Pie Wagon
awesome... ain't it? classy.
I went across the highway and saw a bunch of restaurants.
I picked the restaurant that had a patio so i could smoke. Not the best way to choose things, but it turned out ok. The place was called Montana Restaurant. Not associated with the chain we have back home.
While in Texas... got the Ribeye...
It was good... the mashed with white gravy was really good, peas cold, but still good and the salad.. well, it's a salad. The Texas toast on the other hand i don't get. Like, put some garlic or something on it. Soggy bread and butter just doesn't cut it with me.
saw this sign at the restaurant. funny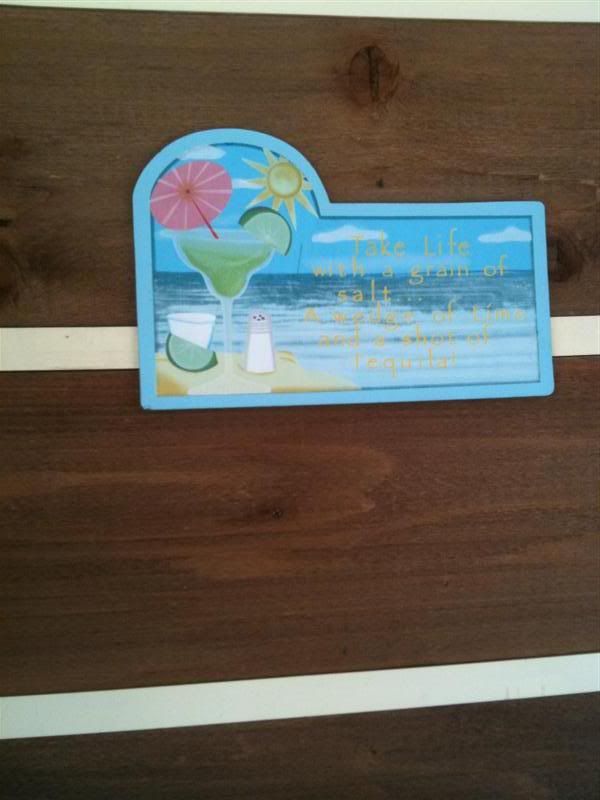 it says
"take life with a grain of salt...
a wedge of lime,
and a shot of telquila"

I think i'm going to follow that advice tonight...
After much writing, and sitting in the partial sun drinking coffee, i went back to my room. The front desk called and lo and behold, my package was here.
15 bucks for less that 24 hours delivery... pretty good. actually, pretty awesome.
I'd order from GPScity again, for certain. I
got my new cradle and the gift i gave myself. happy birthday/merry christmas.
Now i had nothing to do but wait on the bike. I decided to go to Starbucks (2.5 miles away). On the way there i stopped in at the shop and they had received the parts. phew. a load off my mind. Now i hope they put beast back into shape.
Went to starbucks and had my coffee. Wifi didn't work, so i sat and thought... and wrote... and thought some more. Sometimes i think it's not healthy to do so...
I understand the need for people to live vicariously through others, through their stories, their lives. It enriches their lives a little. but today, i had to live vicariously through you. it sucked. it does suck. I need to hit the road badly. i need to be on the move. Am i running away from things? running towards something? hell if i know, i just gotta move.
Anyhow, on the way back i stopped into a little shop and bought myself some medicine. Not the same kind of medicine i have at home, but it'll do in a pinch.
The grape tasting one is pretty awesome... cheap too. haven't tried the other yet, but i certainly will.
Cheers /
Fisehatak
/
A votre sante
/
Sláinte
/
Kampai /
Salud