while i'm typing here, there's a chick from quebec doing video conferencing to home. VIDEO conferencing. idiot. She's said "Allo?" at least 40 times. What a moron. At least use a low bandwidth skype voice only when it's shared wifi. oddly, now that she has left (2 hours later) the connection appears better for me. imagine that. idiot.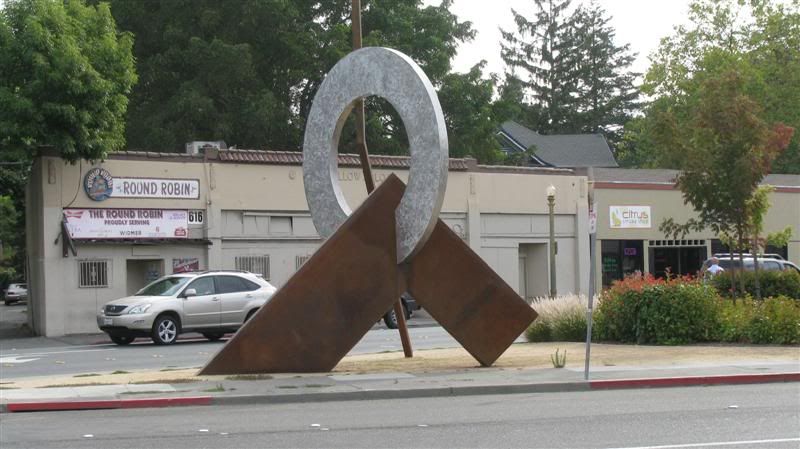 right by the motel i was at. no clue what it is, but it was funky.
The main things today were to change the headlight bulb, and to get a camera.
Changed the bulb, took about 15 mins as you need to take off the whole top cowling to get at the bulbs. That being done, i was about to take a look at that horn. Looking at the tools i brought, it seems i don't have many metric sockets. What the hell?? oh well, hope i don't break down. hah.
While changing the bulb, i had myself a coffee, a banana and half a danish... free hotel food. can't complain, i spent nothing for breakfast.
Found a best buy and got the next generation of the same camera i have. I actually like my old one a little better, but maybe it's just that i've had the sx110 for 3 years, and the sx130 is new to me. There are a few minor features missing too. i'll get used to it.
old and busted vs. new hotness.
I tried some instant coffee from startbucks and got suckered to buy it. Cinnamon spice. Reminds me of the pumpkin spice. I was looking for instant coffee like this for when i camp again, at least i'll have something other than tea to drink.
I headed for the coast and for US-1 again. a nice coastal ride, highly technical again, and a real riot to ride. If there was a state i'd move to, i'd move to California for sure. I love the roads and scenery here.
leisurely road heading to the coast. ranch country
Shawn from florida trucked in this 125cc scooter and doing the pacific coast with it. holy insane. happy riding!
check that road out
I finished up with that end of the US-1 which landed me on the Golden Gate bridge. Woohoo moment. heh.
"If you're going to san francisco..." you might want to ensure you know how to use your camera.
arg.
$6 at the toll on the other side, and off i went to go ride down lombard street.
The roads are freaking insane in San Francisco.
Rode around San Fran, trying to get back to the US-1. Traffic. tons of traffic.
I want to come back to San Fran, but there is no way i want to ride around. I'd rather take the trolly or rent one of these little go kart looking things. neato.
neat limos
I ended up in San Mateo. These cities never end, one border stops and the other continues. It's like one giant city sometimes.
I was starved by this time and wanted some real food. Chains and Tacos and little cafes are all i could see. Seriously, when i want a coffee, i can't find one, and when i want food, all i find is coffee?
I saw this place called Hiedis pies which looked like a retro diner. correction, not retro. Just a diner that looks like it's been there for ages.
In i went.
Signs of a good eatery.
-A counter with stools to sit at.
-Booths with cracked vinyl.
-old waitresses that seem like they've been there forever
-locals / old people
why locals/ old people you may ask? old people don't like new things most of the time and like to stick to their regular meals. If old people keep coming back, you're doing something right.
I ordered the BBQ bacon cheeseburger. I spoke to the waitress for a little bit as i was curious about all the pies. Stacks and stacks of pies. i said my little story about my trip, etc. I said the pies smell delicousl, and it's too bad i can't pack one on the bkes.
Seems the owner and/or waitress liked my story or my questions, becuase she said that she put my order in, and someone said i get pie on the house. Sweet! i love free things.
The burger and rings were really good. Road food. loved it.
While eating, i kept seeing people come in, get a pie or two and leave. Many people. The pies here must be pretty good.
She gave me a pie menu and asked me which one i wanted. No clue. So many pies. so many.
I asked her what the most popular was, and gave me a short list off the top of her head.
Blueberry sour cream? never heard of it, so i tried it.
FANTABULOUS. what a great piece of pie. i wish i could still taste it. Great filling and great crust. I wish they made mini pies, else i'd buy a few for the road. hah.
I asked them if this was a chain or a stand-alone. Seems 30-40 years ago it was a chain, but this is the only one left and business is still good. Love it. Hate the corporate restaurants, where it's more like eating at a trough.
When i come back to the bay area, i'm going back and eating more pie. great food, if you're in the area. go and get pie. awesome pie.
i checked out my chicken strips. not bad for a KLR loaded with gear
rear
front
Belly filled, i got the GPS to find me the fastest way to the other portion of US-1
I was zipping along in the carpool lane (motorcycles are allowed) at something like 75 mph, and something whipped by me so fast it scared the crap out of me. A motorcycle was lane splitting and going 90-95mph. damn him. Here's the funny thing. It was a California Highway Patrol. Haha. That dude was lane splitting and swtching lanes faster than anyone i've ever seen. Brutal skill. I didn't have the nerve nor did the bike have the power to do that.
I took the turn off to Santa Cruz where traffic was at a stand still. After about 10 mins i had gone maybe 400 feet. brutal. Even though it's liquid cooled, the bike needs to move to keep it cooler. the inside of my legs were starting to get REALLY hot. thankfully, the suit helped a bit.
An ambulance was coming up behind and i squeezed into the middle lane. It went by me and though... why not follow it? So i did, while staying on the white dotted line. This is called lane splitting.
Cars in California actually move over a little to let you by if they see you. It was pretty sweet. I only went 20-30mph faster than they were, making sure i had room for the big beast, and making sure they saw me... most moved over quite a bit.
what a fantastic idea. Lane splitting is pretty awesome.
When the traffic picked up to a reasonable speed, i went back into a regular lane as there's no point of pushing my luck any more than i did. No close calls either.
California drivers, for the most part, are really good drivers. i'm not talking about big city drivers btw.
They actually watch for bikes, are considerate for the most part and don't speed excessively. There's reason for that. many hills and many corners. unreal how awesome the roads are.
I was losing light fast and wanted to see if there was a cheap motel and/or camping up the road on US-1.
brussel sprouts or artichokes. seems to be what they farm around here.
I couldn't find anything on the gps, nor on the starbucks Wifi so i decided to just go for it and see what happens.
The ride to monterey was an absolute hoot. I've never seen Technical Highways before. No wonder everyone has motorcycles around here. no pics, sorry... can't ride and take photos on those roads... i'm not crazy.
Got to monterey and the one camping spot the GPS said there was turned out to be homes. LAME. backup plan, look for a motel. I saw an inn at $70 a night, butthey were booked. dammit. Inns in the area go for about $110 a night. This is a big money tourist town. dammit.
I rode around almost complete dark now, and saw a sign for the Butterfly something inn. The owner said a room would be $110 a night, but they have Wifi. I said it was too rich for my blood, and he knocked off the price to $90. deal. I was freezing and tired and it was dark. I wasn't about to complain much.
To note, when the sun goes down in california, you freeze. hah.
The room is awesome! Vaulted cielings, a little stovetop/sink combo, large bathroom, king sized bed and fireplace.
This is worth the $110, so at $90, it really was a deal. The wifi isn't working for the laptop, and i have to smoke outside, but whoopie.
I sat outside to have a smoke and saw a fawn just walking around. dammit. where's the camera when you want it. a little while later, a saw a racon trying to get into the garbage. I tried to shoo him away, but he just turned around and stared at me for a few seconds. He tried for the garbage again and i stomped my foot. it scared him that time.
My efforts were for naught, as later still, i saw garbage strewn all around the can.
I later spoke to the owner again. He's originally from Moscow, and a rider as well. He said running to LA from Monterey is hard on the interstate in one day. we shall see... we shall see.
Btw, all bikers keep saying "I could never do something like that!" when talking about my trip.
Why the hell not? get on the bike and ride. At night sleep. Rinse and repeat until you have to go home. There is no more freer experience than to travel this way.